18:09 03 Oct 22
Designated National Authorities
What is a designated national authority?
A designated national authority (DNA) is the organization granted responsibility by a Party to authorise and approve participation in CDM projects. Establishment of a DNA is one of the requirements for participation by a Party in the CDM.
The main task of the DNA is to assess potential CDM projects to determine whether they will assist the host country in achieving its sustainable development goals, and to provide a letter of approval to project participants in CDM projects. This letter of approval must confirm that the project activity contributes to sustainable development in the country, that the country has ratified the Kyoto Protocol, and that participation in CDM is voluntary. It is then submitted to CDM Executive Board to support the registration of the project.

See the diagramme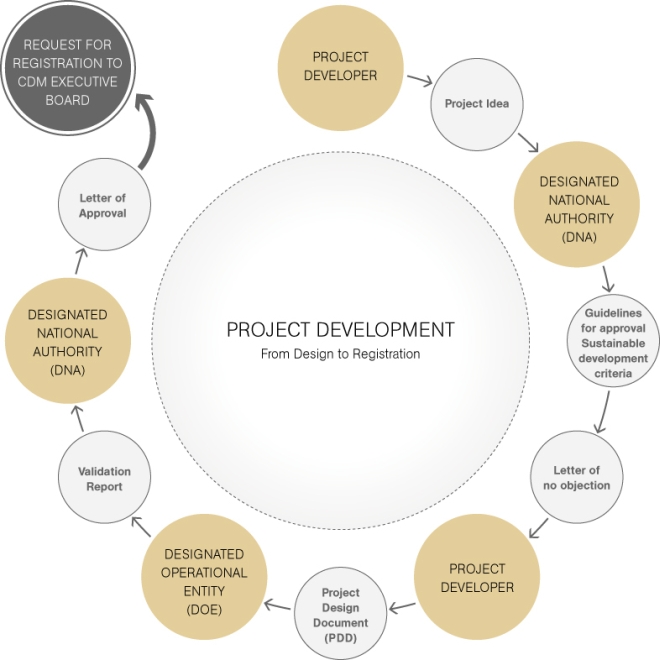 DNAs have additional roles to play, such as the submission of proposed standardized baselines for their country, among others. These responsibilities have increased as the CDM has evolved.
Find a designated national authority
If you are a DNA representative and your coordinates are incorrect or have changed,please send an email to moderator-dna@unfccc.int

DNA Help Desk:
Support for developing proposals for standardized baselines, microscale additionality and grid emission factors more»
How to submit proposed microscale renewable energy technologies for automatic additionality more» and step-by-step guide »
How to submit proposed standardized baselines more»
How to submit proposed Special Underdeveloped Zones (SUZs) for automatic additionality more»
NEW
DNA Chairing Committee