23:55 22 Jan 22
In Focus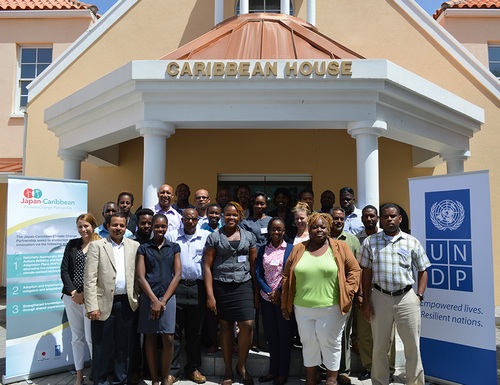 Training Seminars for Climate Mitigation Actions in the Caribbean
On 16–24 June 2016, the Japan-Caribbean Climate Change Partnership and the Low Emission Capacity Building Programme under the United Nations Development Programme (UNDP), in conjunction with the Regional Collaboration Centre, St. George's (RCC St. George's), organized four targeted capacity-building training sessions to support the development of climate mitigation actions aligned with Nationally Determined Contributions (NDCs) under the Paris Climate Change Agreement.
These two-day training sessions provided direct capacity-building to the governments of Saint Vincent and the Grenadines, Grenada, Saint Lucia, and Suriname in the implementation of their NDCs for the energy and/or transport sector, leveraging lessons learned from the Clean Development Mechanism (CDM) and work Nationally Appropriate Mitigation Actions (NAMA). For example, trainees learned how the CDM could be used as a tool to measure, report and verify (MRV) climate mitigation actions. The capacity-building programmes promoted dialogue between stakeholders from public and private sector organizations, including representatives of government ministries, non-governmental organizations, academia and financial institutions, including banks. Approximately 100 people took part.
Each session included direct discussions with participants in open round table format and breakout group discussions in order to facilitate rich transfer of information. On day one, RCC-STG (UNFCCC) and UNDP representatives presented the outcomes of the Paris Agreement, the key concepts of NDCs and the new process, the use of NAMA as a vehicle to achieve NDC mitigation targets, the NAMA process and the use of CDM as an MRV tool and the lessons learned from CDM programmes of activities (PoA) in NAMA development. CDM Designated National Authorities and NDC Focal Points shared their experiences in the implementation of CDM and NAMA in their countries, as well as on the preparation and content of their NDCs. Discussions on day two concluded with promising interventions framed under a NAMA by respective governments in selected sectors.
Similar training will take place later this year in Guyana and Belize.