10:24 16 Aug 22
In Focus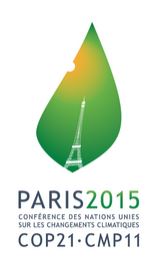 Tuesday 1 December 2014, 13.15-14:45 h
Location: Hall 4, Observer room 4
UN Climate Change Conference, Paris, France
Offsets for action – side event – The Executive Board of the Clean Development Mechanism will host a panel discussion titled Increasing mitigation action through the CDM and voluntary cancelation. Senior business, bank and government representatives will join the Board Chair to discuss the role of offsets for incentivizing action.
Offsets for action – COP21/CMP11 side event
A panel hosted by the CDM Executive Board on increasing mitigation action through the CDM and voluntary cancelation
Moderated by Janos Pasztor, Assistant Secretary-General on Climate Change, United Nations Executive Office of the Secretary-General
Parties are determined in Paris to reach a new global climate change agreement that will define the global response to climate change beyond 2020. Nevertheless, the challenge before 2020 still remains. Voluntary cancellation can not only help close the pre-2020 mitigation gap, it can also strengthen confidence among Parties and build the foundation for greater action after 2020.
The CDM Forum will this year explore how the voluntary cancelation of CERs can enable the scaling-up of mitigation action and form a strong partnership between governments, the private sector and other non-State actors. It can be used to compensate individuals' and organizations' climate footprints, enable the delivery of climate finance based from low carbon development projects, and support mitigation policies put in place at the national level. Voluntary cancellation using the CDM provides for a functioning, credible, internationally recognized infrastructure that ensures the fungibility and comparability of mitigation outcomes.
Join the CDM Executive Board and invited guests to learn about the achievements of the Board during this crucial year and to explore the potential of voluntary cancelation to help the global effort of combatting climate change and reaching a climate neutral society.
Janos Pasztor
Assistant Secretary-General on Climate Change, UN Secretary-General's office

Moderator

Lambert Schneider
Chair of the CDM Executive Board

Achievements of the CDM Executive Board in 2015 and the Voluntary Cancellation Platform

Sonia Moreno Angulo
Director, Environment and Quality Management, OHL Group

Voluntary cancellation – a case of good stewardship

Daniel Rossetto
Managing Director, Climate Mundial

The CDM as a result-based finance instrument for the Green Climate Fund and green bonds

Neeraj Prasad
Manager, Climate Change Practice, World Bank Institute

The CDM for channeling finance, technology and capacity to into climate action where it is needed

Takalani Rambau
Department of Energy, South Africa

Using CERs in support of national mitigation policy

Dirk Forrister
CEO and President, International Emissions Trading Association

Private sector views on opportunities for the use of voluntary cancelation